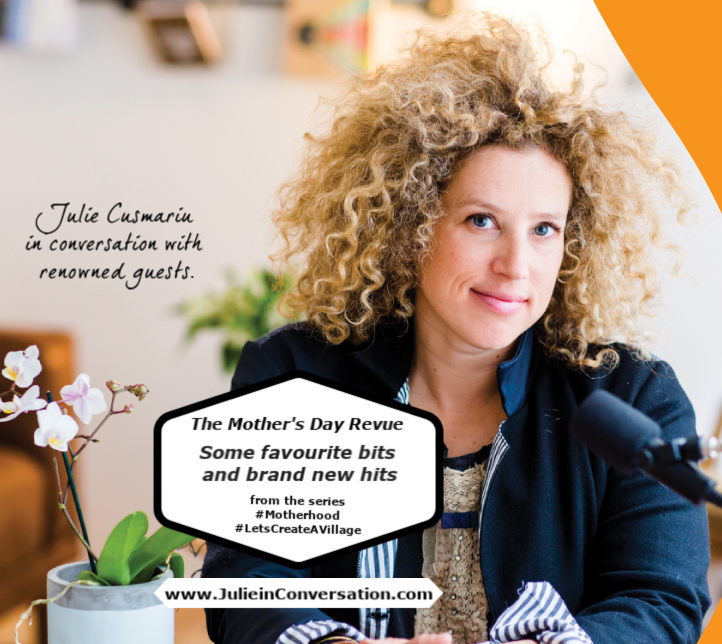 I'd say it's a perfect time for a retrospective of the podcast series #Motherhood #LetsCreateAVillage.  The podcast series that connected me with so many wise guests and listeners from all over the globe. This is a series that I love and benefitted so much from hosting and producing as I too navigate this wondrous journey as a mum to 2 boys (now 9 and 6 years old). I also have a pup named Lucy who helped prepare me for motherhood,  she is now 12.
In 2019 I created a timeless three part special as a celebration of the series called, The Mother's Day Revue including a bonus episode, featuring some of my favourite bits and 'brand new hits'. Beloved guests who graced the series and helped me make sense and bring meaning, insight and joy to this experience include, Harriet Lerner, Asha Frost, Dr. Deborah MacNamara, Ellen Bettmann, Christine Carter Ph.D, Dr. Elizabeth Cohen, Dr. Laura Markham, Tanya M. Odom, Karen Brody, Fariha Naqvi-Mohamed, Michelle Osbourne, Renee Trudeau, Alane Freund, Helané Wahbeh, Irene Lyon, Nic Stack, Madonna Maher, Sheryl Paul, Kimberly Manning, Marion Light, Trine Veiss Mikkelson, Anna Seewald, my own beautiful mother, and more…
Part 1 – The Mother's Day Revue: Part 1 with Harriet Lerner, Elizabeth Cohen, Sheryl Paul and more
Part 2- The Mother's Day Revue: Part 2 with Dr. Laura Markham, Dr. Deborah MacNamara, Christine Carter Ph.D, and more.
Part 3- The Mother's Day Revue, Part 3 with Fariha Naqvi-Mohamed, Michelle Osbourne, Asha Frost, Tanya Odom, Ellen Bettmann &Nic Strack.
The Bonus Episode- The Mother's Day Review Finale –
Featuring a special conversation with a special woman in my life: MY mother.
And other guests including Helané Wahbeh, Alane Freund, Trine Veiss Mikkelsen, Kimberley Manning, Renee Trudeau and more.
I also share more favourite bits and wrap up hits on topics that include: Feminism, sensitivity, nervous system health, intuition, menstrual health, self-care and more.
May you benefit and share it with those you know will as well.
Be sure to tune in to more conversations, series and audio experiences to connect you to your intuition and inner wisdom as you navigate this wondrous experience of living this life as you are. www.JulieinConversation.com 
Share in the comments below some of the nuggets of wisdom you are gaining from these conversations.
Here's to you as you navigate these times, these times of 'prolonged uncertainty', as called by Esther Perel, these times that are accurately reflected in these words ' we are all in the same storm, but in different boats.' Here's to you during these times of fluctuating feelings, disruptions and change. Here's to trusting the earth, to trusting yourself and to the possibilities before us.
Cheers to you, with love,
Julie
About me:
Julie is a Certified Life Coach and Intuitive Consultant based in Montreal, Canada. She is the podcast host and producer of Julie in Conversation and also the host of  "Dance your Intuition'  a monthly in person and virtual event.
Julie works with artists, changemakers, parents, entrepreneurs and people interested in their own well-being and that of their family, neighbours and planet. Julie helps individuals trust their intuition, use their voice for positive change, gain clarity, and lead with meaning and purpose; individuals going through life transitions, experiencing self-doubt, and feeling stuck; individuals on their way to publishing their book, writing their song, making their film, giving their talk and getting their kids' to school on time.   www.JulieCusmariu.com