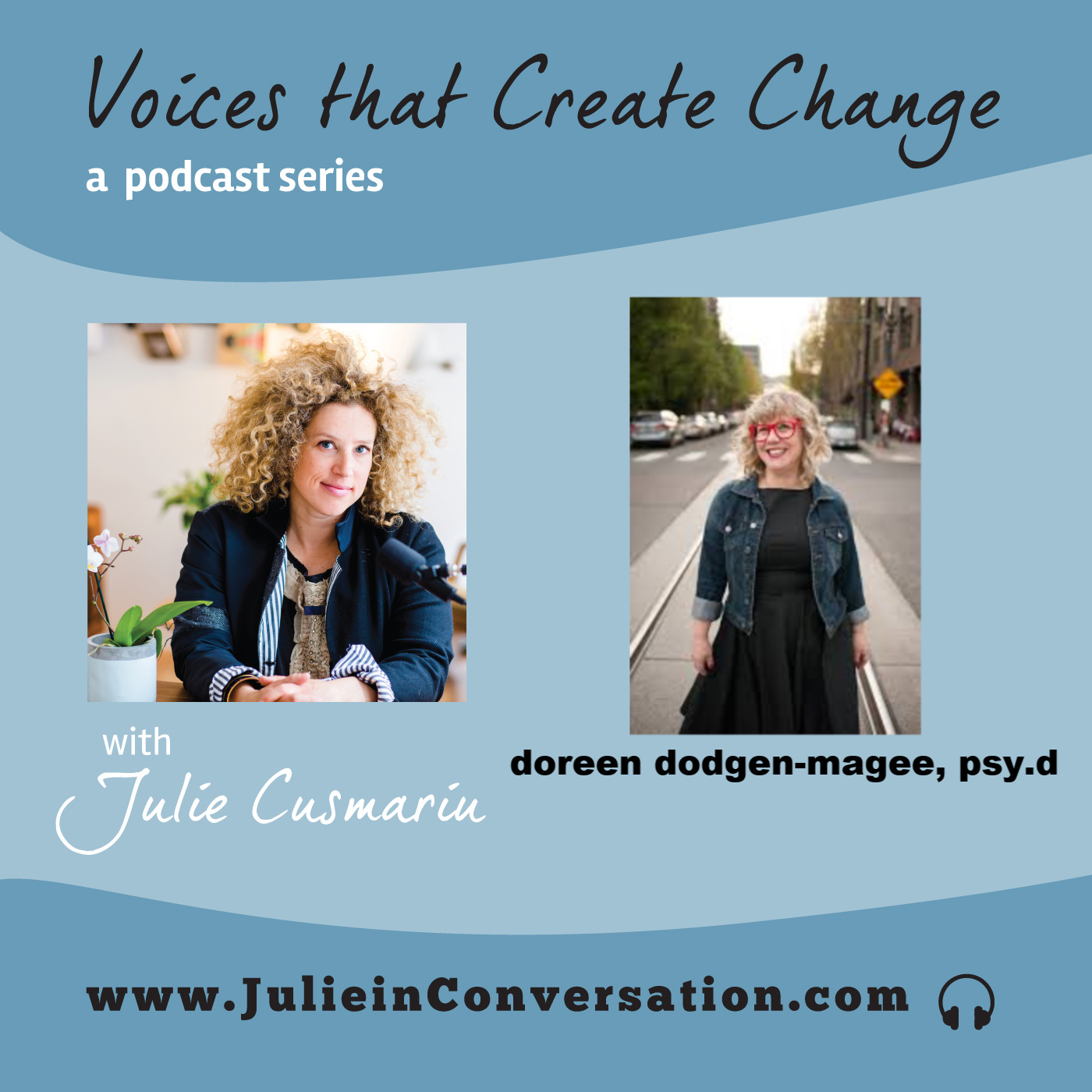 "…if we could all just be more uncomfortable, inconvenienced and bored, we would just be better neighbours and siblings to people, and yet I know that a lot of people are feeling that those three things are very tapped out right now…." words shared by doreen dodgen-magee on the most recent podcast.
Podcasting is one way I show up in matters of my heart; with my voice and by sharing other people's voices.
My most recent broadcast from the series Voices That Create Change, was supposed to be about navigating the pandemic with author and psychologist doreen dodgen-magee, psy.d.  but it took a sharp and necessary turn.
The podcast is dedicated to Black lives, past, present and future and the Black Lives Matter movement. I stand in solidarity with the Black communities demanding justice and the BLACK LIVES MATTER movement. I stand against the injustice and violence and brutality on Black people, that is going on and has been going on for centuries upon centuries, upon which countries have been built. This hour is steeped in my commitment to be anti-racist, to learn and do more more so as not to contribute to perpetuating the violence and injustice and systemic inequities facing Black Lives, Indigenous Lives and on the lives of people of colour.
In this conversation with Doreen we shared resources of Black activists, authors, journalists, practitioners and educators to learn from and more. I have included some mentioned below.
"It is a privilege to learn about racism instead of experiencing it your whole life." (unknown). I do want to acknowledge that this conversation, featuring two white women talking about racism is an example of privilege in itself. I acknowledge this. I wasn't sure if the right action forward was to proceed with the podcast but it became clear to me that it was the right action forward for me taking responsibility and using what I have to help contribute to dismantling the systems of oppression with the hope of impacting positive change in some way.
Doreen Dodgen-Magee, a returning guest and friend of the podcast, is a beautiful example of heart filled, compassionate leadership, she is a beautiful human doing such meaningful work in the world. She helps us navigate the times we are in. May you benefit in some way.
Rev. Angel Kyodo Williams @zenchangeangel
Charlene Carruthers @charlenecarruthers
Adrienne Maree Brown @adreiennemareebrown
Rachel Cargle @rachel.cargle
Michelle Osbourne- @uncomfortablebliss @projectfemmenoire
Michelle Cassandra Johnson @skillinaction
Anasa Trourman @anasatroutman
Tanya M. Odom
Sandy Hudson @sandela www.SandyandNora.com
Desmond Cole @desmondcole
Indigenous Medicine woman Asha Frost @AshaFrost
Lama Rod Owens www.lamarod.com
For more conversations including conversations about discrimination and how to talk to kids about race check out these conversations amongst others I have had on my podcast with Asha Frost, Tanya M. Odom, Ellen Bettmann.