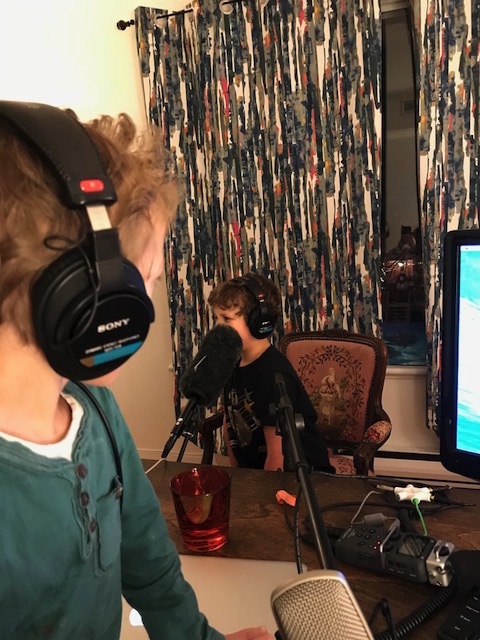 Future broadcasters? Podcasters? Boys with a message? A song? A story to tell? We all have something to say and a reason to be heard.
This studio of mine where I broadcast my weekly live podcast entertains these voices and amplifies them too ( no doubt). Who doesn't want (need) amplification ?
Certainly I'm grateful that my boys can play in my office and that I now have time (boys are old enough to be in school) and space to really be in my office and create from it. Nurturing family, nurturing self. A conscious process. A humbling one. A rewarding one. An ever evolving one. Learning. Trusting as I go. As author and counselor  Sheryl Paul said in our recent interview  on the series #Motherhood #Let'sCreateAVillage, "With each notch of their ( our kids ) independence you gain a little piece of your own self back ".  And that self is a forever evolving self. Isn't it? A self forever being realized and known. May you let your intuition lead. May you know your voice, listen to it, trust it, believe in it, act on it. And may you mirror the reflection of your kids' unique voices back to them so that they can thus strengthen their uniqueness and unique heart wisdom.
Here's more on how listening to and trusting my intuition has pointed me in the 'right direction' or has helped me course correct.
If you want support in connecting to your intuition, in identifying if what you're hearing is your intuition, I have programs that can support you in this. Have a look. When I stumble upon my own clarity to my inner wisdom I seek the support I need to re-align and re-connect. And so in turn I love helping individuals become aware of their blind spots and beliefs that keep them from aligning with their inner wisdom. And with the connection we can have to our intuition we will blaze our own magnificent trails. May you let your intuition lead.
I'd love to hear about your experience with intuition. Share them below, along with any questions. Cheers to you.