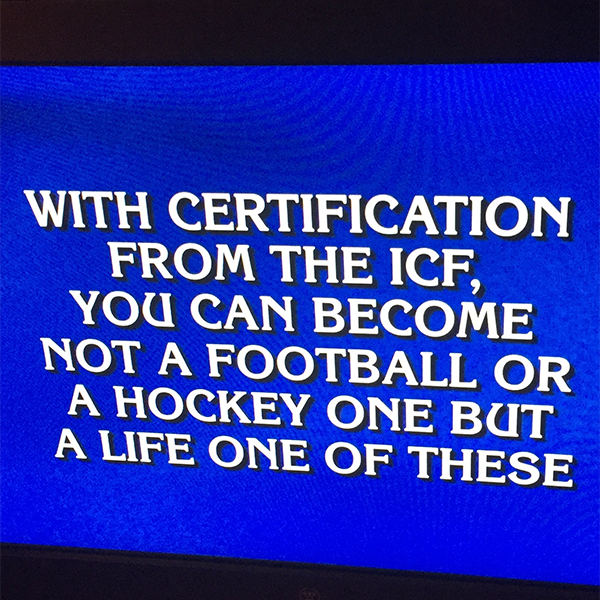 International Coaching Week just ended for 2018. Even Jeopardy has Coaching as a question. "Alex, what is professional coaching?" Correct. The International Coaching Federation has existed since 1995 dedicated to advancing the art, science and practice of professional coaching.
I've been a certified life coach since 2007 and a certified mentor coach since 2016 based in Montreal, Canada. I coach leaders, artists and creative individuals to trust their intuition, make better decisions, gain clarity and lead with meaning and purpose. I work with incredibly inspiring individuals/clients I love and am inspired by each day, who live all over the world. I learn from them and it is an honour to support them in honouring themselves and the world in which we live. As a life coach I support individuals in revving up the courage and strength to be who they are fully, completely and unapologetically.
The International Coaching Federation and the incredible coaches, mentors and friends I have met along the way have helped support my own personal and professional development in significant ways.
If you have yet to experience coaching I recommend it highly. Athletes have coaches to reach their potential, who said everyday life doesn't merit someone to walk alongside you and be your support and champion too? I do, it has helped me immensely as an individual experiencing different life transitions and more. As a coach it has been an honour to create the space for others to realize themselves and be heard and seen in a safe, supportive place.
Professional coaching exists throughout the world in many countries with thousands of coaching professionals and is ever growing. Find out more here. And if you have any questions share a comment below. Cheers everyone.
May you let your intuition lead and may you blaze your own trail.
I host a weekly live podcast dedicated to inspiring change personally and globally, similarly to the mission and purpose of coaching. To inspire and support positive change. Have a listen here.