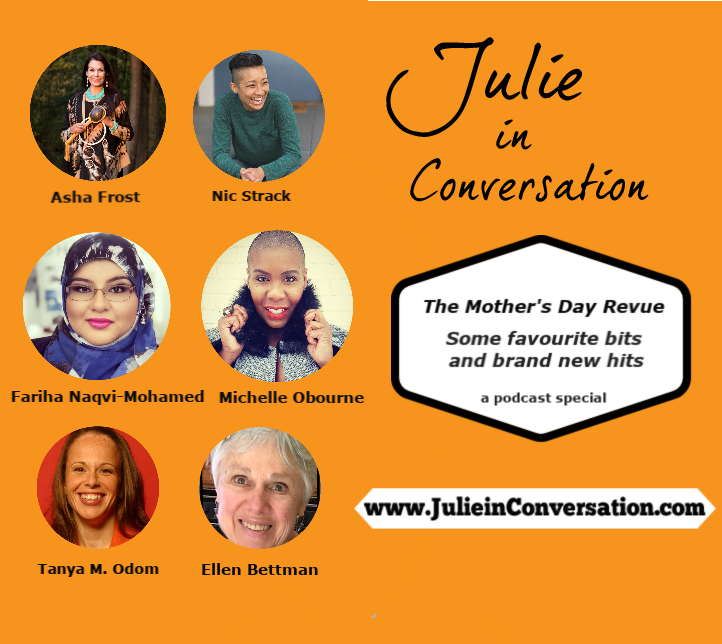 Part 3 of The Mother's Day Revue: Favourite bits and brand new hits from the podcast series #Motherhood #LetsCreateAVillage.
Featuring Fariha Naqvi-Mohamed, Michelle Osbourne and other very special guests including Asha Frost , Nic Strack, Tanya M. Odom and Ellen Bettmann.
Topics covered:
Diversity and inclusion, race (and talking to our kids about it) privilege and cultural appropriation, creating change, gender identity and motherhood after 40.
"Change doesn't happen when we stick to people who look like us, who think like us, who dress like us. That's not where you see change happen. Change happens when you make yourself uncomfortable, when you step out of your comfort zone, when you walk into something not knowing what to expect but you keep an open mind. That is how change happens. " Fariha Naqvi-Mohamed
Show notes:
Thank you for listening and here's how you can help this podcast continue and thrive: If you've been benefitting from these conversations, have you considered joining the other patrons who are helping with the sustainability of the podcast with a one time donation or a monthly donation?  Both can be found by scrolling on my website a little further down www.JulieinConversation.com or here
http://www.Patreon.com/JulieinConversation.com
Show notes:
*13:03: Michelle Osbourne @UncomfortableBliss– a communications professional, educator, multidisciplinary speaker. A queer woman of colour who became a mom at 42 and is navigating motherhood and talking about reinvention.
"Shine baby shine. Let's all shine. I think one of the greatest gifts that we are given is being able to connect with another human being. We all want to have a connection in some way. Right? And so when you find that human being, that person, whoever that you connect with, you have to hold on to it, use it as a gift and just really live with it.
"I just think that the less you care about what people think, the happier you will be in your life."
""Your light doesn't dim when you ignite someone else's flame. It just makes the world shine that much brighter." unknown
*57:38 Fariha Naqvi-Mohamed www.CanadianMomEh.com @CanadianMomEh
Montreal Gazette Columnist, Digital Influencer, Speaker and a woman making history as the first hijab wearing woman TV journalist in Quebec and the 2nd in Canada.
"I did study journalism and communications and so I knew that I always wanted to kind of work from home when I wanted, when I would one day be a mom. That was something I knew from the age of eight years old. Wow. I just, I knew that I wanted to be a writer. I wanted to be a journalist, but I also wanted to be able to stay at home if possible with my children and raise a family and I knew that. "
"I was the first woman in my family to put on my hijab. I owned that space that I chose for myself to be, to be a woman who expressed my strong feminist views by choosing how the world sees me and choosing what the world sees of me."
" I'm a public figure. I'm very public in terms of the work that I do, but it takes a toll on me. And when I'm dealing with this level of hate  and especially if it comes from different directions, by email, by DM, it just feels like online is a negative place. I have to retreat.
I have to kind of take care of my own mental health and take a little bit of time offline and reconnect, with my family, with my friends. I kind of get myself into a better place where I can, I can tell myself that, you know, I start to feel sorry for the person that who would really feel compelled to spend their time in that manner. "
"…the invitation and also the experience of putting yourself in the place where you can experience other people who have a different point of view. You know, where you may not agree, but like you used these words, to lean in.  I'm leaning in and open to that because that's how we grow and stretch."
"Change begins when we come out of our comfort zone and we get to know each other."
*01:45:16: Nic Strack www.NicStrack.com @nicstrack
Empowerment Coach for Moms
Queer Enby Mixed Asian Mom (They/Them) speaking about her journey coming out as genderqueer with her husband and toddler. Nic was also live in the chat room when I was broadcasting and we had a meaningful exchange over the use of their pronouns. Listen for that.
"Through becoming pregnant, um, and having essentially all of my masculine side be visually erased, right. People were automatically assuming constantly that I was female. Um, I missed that part of me. "
"I have spent more time just rooting into what it means for me to sometimes look out these eyes and think that someone would think that I had a male body. Um, or to sometimes look out these eyes and not have any sort of an attachment to what, just have no experience of gender and to not be able to necessarily articulate it to other people, but to know that it's okay for that to be my truth and for me to explore what that means for me as well as what that means for my family. "
*01:57:47: Asha Frost www.AshaFrost.com @AshaFrost
Asha Frost is an Anishinaabe woman from Neyaashiinigmiing (Cape Croker). She is a Medicine Woman, Mentor and Visionary who believes that we heal when we awaken to the beautiful medicine that we carry within. She facilitates healing in her practice, through the use of Shamanic Healing, Homeopathy and Indigenous Based Ceremony.
"…as Canadians I hear us say, we are just such nice people.. and we're so diverse and we're just so multicultural. And you know, we always are focusing on those aspects, which is great. And part of that is true, but there is a very dark history to Canada that people don't. Lots of people, when I share this, they said, I had no clue. I had no idea. Why do we not learn about this in school? Why do we not? And it's starting to change. "
"Where is this coming from and who is this teaching coming from and what are you taking from them?
Also are you honoring the whole story? So that dark history of Canada, do you know anything about it? Do you know the missing and murdered indigenous women? Do you know about the water advisories on so many of our first nations across Canada? Or are you just wanting to take the pretty stuff and use it for your own wellbeing? So it's that taking on our g that I have felt in my body rumbling up that I'm finally ready to speak about.
"Dear White People, It's a privilege to learn about racism instead of experiencing it your whole life. " Black panther girl, Quartney chante- from the Check Your Privilege and Portland Equity in Action account on Instagram.
*02:17:51 Tanya M. Odom, Twitter: @TMODOM– Global Diversity and Inclusion and Education, Consultant and Executive Coach.
Using empathy and compassion to talk about race and privilege with our kids.
"How do we get people to think about beyond who I just know and who I'm connected with and care about?"
"What we don't always want to do is to say we're all the same, right? We're all humans, but we also have difference."
*02:33:55 Ellen Bettmann@EHBett : Human rights and social justice activist; anti-bias educator; grandma x 8; co-author Hate Hurts.
Practical language and phrasing about how to have difficult conversations."Thank you for telling me that. I really want to understand…"
Ellen addresses Robin DiAngelo's powerful book White Fragility and how can we respond
when 'uncle Bob' at a big family dinner says something racially offensive. And how do we talk to our kids about this.
"I know some people think that, but I don't and here's why."